Nowadays, many people are showing interest in cooking. People who are a beginner in this field can take help of various kitchen tools and make their work easy and better. The most tedious and stressful task is to cut vegetables perfectly to make any recipe or salad. Moreover, good vegetable slices in the salad make it look more appealing and impressive. You can get various vegetable slicers to get perfect slices on your plates for impressive cooking skills. There are many benefits of vegetable cutter and slicer tools. These are also very handy and easy to use. Thus, many people who are new to the cooking field use these tools to make their task easy and perfect.
Stainless Steel Fruit And Vegetable Cutter 
This tool is perfect for cutting vegetables as well as fruits in a fancy style. The cutter blades give you zig-zag shape, which gives you perfect slices of fruits or vegetables. Moreover, this tool is available in vibrant colors available like blue, pink, yellow, and green. The handle is made of high-quality plastic, and the blades are made of stainless steel. These tools are very durable and easy to use and clean.
If you are looking forward to making quick snacks, you can buy this product and make fancy-looking French fries. This cutter gives a trapezoidal shape. Therefore, you can make some creative and unique snack recipes for your house parties. These can also cut the salad in beautiful shapes and make your salad look more attractive.
Stainless Steel Vegetable And Fruit Peeler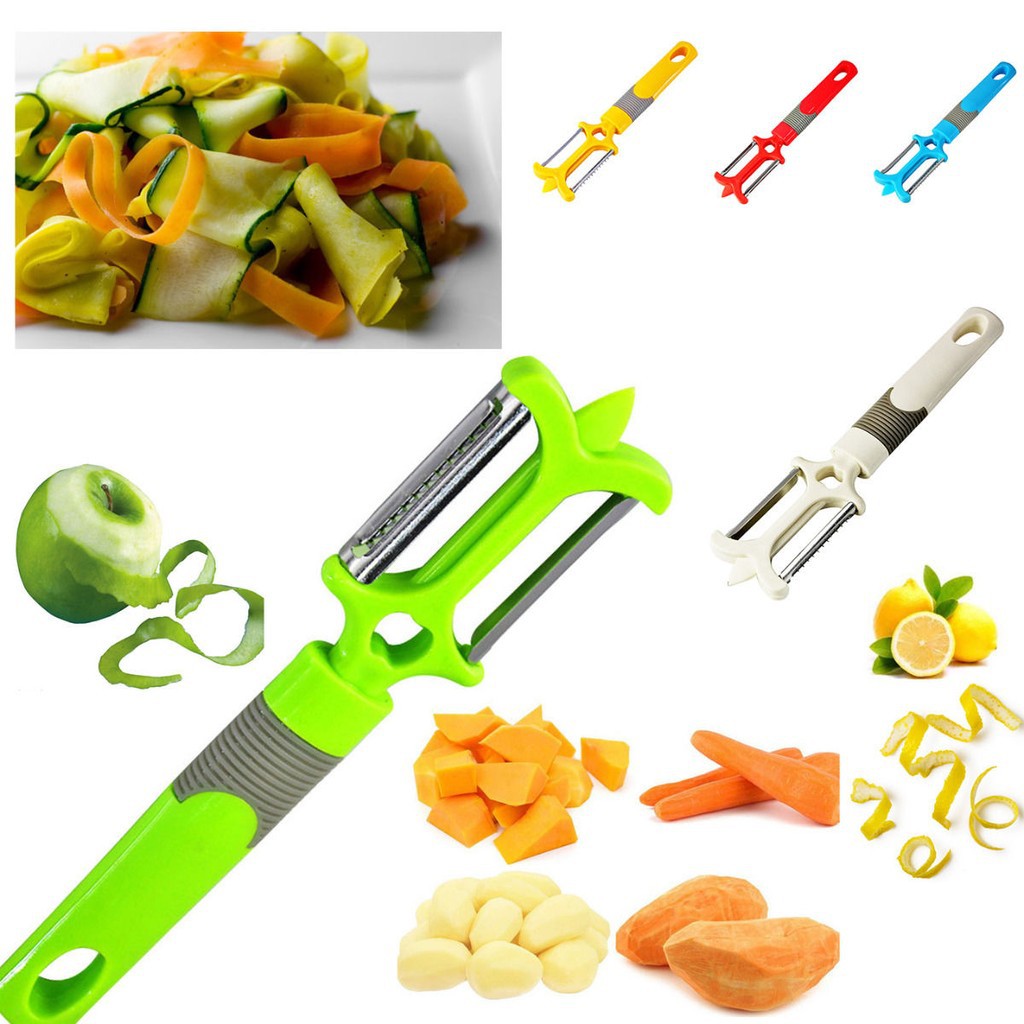 There are many recipes which include finely chopped or long peels of vegetables. Vegetable peeling is not that easy task to do. So, you should get the vegetable peelers and enjoy cutting them with ease. This peeler has a comfortable design, and the handle is perfect for gripping the tool easily. The entire peeler is made of high-quality stainless steel, including the sharp blades. Thus, these peelers are rustproof and easy to wash. The size of this product is 17 cm x 8.2 cm.
This tool can peel carrots and cabbage. You can use them to make noodles and pasta. Many people like to have finely peeled carrots, cabbage, lettuce, etc. in their salad. If you are diet conscious, you can buy this product to make your salad recipes more appealing and delicious looking.
Food Blender To Enjoy The Benefits Of Vegetable
There are many benefits of vegetables, and you should include green leafy veggies in your daily diet. If you are looking for an amazing cutting and blending tool for your kitchen, you can go with the food blender. This blender is made of high-quality plastic as cover casing, and the cutter in the blender is made of stainless steel. This blender is durable and available in different colors and can be controlled with the push button. You can buy them at a very reasonable price and enhance your cooking skills by trying new recipes.
Many people also go for this blender to prepare baby food as it cuts and blends the veggies and fruits evenly into a thick paste or preferred consistency. Your mashing task can be easier and quick with the help of this product.